At SIDE we have been convinced that the future is green and technology-based for close to fifty years and that we must evolve as quickly as possible in order to keep up and offer our customers the best possible service. We are therefore very pleased to announce that we have decided to invest in sustainability once again, in this case by installing solar panels. From now on, we will work primarily with clean and renewable energy.
We have installed a total of 164 monocrystalline silicon solar panel modules, with 144 cells each on an area of 790 m². This is equivalent to a net photovoltaic energy collection area of 356 m², with a photovoltaic power of 75.44 kWp. According to the studies carried out by the company that advised us in this regard, our solar panels will generate 101,611 kWh per year as a result of this installation. Based on a photovoltaic power of 75.44 kWp, this means 1,346.9 kWh/kWp/year, which is equivalent to almost 90% of all the electricity we used in 2022.
Although investing in this type of energy entails a significant initial investment, the payback period is estimated to be around four years, from which time we will start to save money, as shown in the graph below.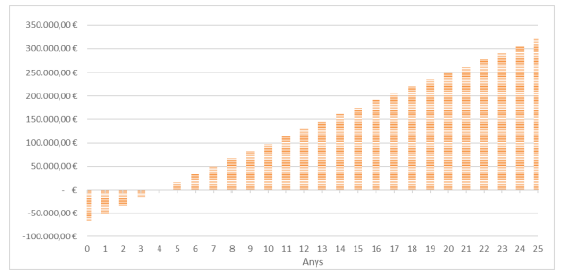 It is hard to hide from the fact that everything is changing and we must either evolve or risk being left behind. SIDE aims to be a market leader, not just in terms of our commitment to our customers, who enjoy a very high degree of customer satisfaction thanks to our quality and service and our provision of the most suitable solutions, but also as a company that is environmentally responsible. Every action, however small, counts.